Toward a Science of Consciousness 2008
TSC 2008 POETRY SLAM WINNERS
The Rutherfords!
2008 PHOTOS
April 8-12, 2008 - Tucson ARIZONA

Tucson Convention Center

CONFERENCE PROGRAM

WORKSHOPS-SYMPOSIUMS

PLENARY


CONCURRENTS

POSTER SESSIONS

ART/TECHNOLOGY EXHIBIT


VENUES

SOCIAL

SIDE TRIPS

EXHIBITORS

MEDIA

HOTELS

TUCSON
CONFERENCE ABSTRACTS - click here for .pdf version
---
---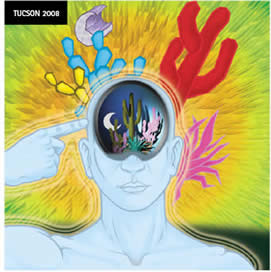 Toward a Science of Consciousness 2008
April 8-12, 2008 - Tucson ARIZONA
Tucson Convention Center
The eighth biennial Tucson conference continues
an interdisciplinary tradition of intense, far-ranging
and rigorous discussions on all approaches to the
fundamental issue of how the brain produces
conscious experience.

Click here for complete conference program




























































The Entire Program With All Presenters is Posted (Above) by Types of Session and Timeline
The Following is an Aerial Overview
The program is set for the biennial Tucson conference 'Toward a Science of Consciousness', April 8-12, 2008. Held in even-numbered years since 1994, the Tucson conferences are the pre-eminent world gatherings on all approaches to the profound and fundamental question of how the brain produces conscious experience, a question which addresses who we are, the nature of reality and our place in the universe.
An estimated 1000 attendees from 6 continents participated in 400 presentations included in 21 Pre-Conference Workshops, 12 Plenary sessions, 21 Concurrent Talk sessions, 2 Poster Sessions and, for the first time, an interactive Art and Technology of Consciousness Exhibit.
Plenary Session Overview:
TUCSON 2008 PROGRAM COMMITTEE
Bernard Baars, Neurosciences Institute, San Diego
David Chalmers, Australian National University
Anthony Freeman, Journal of Consciousness Studies
Stuart Hameroff, University of Arizona
Valerie Gray-Hardcastle, Virginia Tech University
Terry Horgan, University of Arizona
Al Kaszniak, University of Arizona
Christof Koch, California Institute of Technology
Uriah Kriegel, University of Sydney
Hakwan Lau, Columbia University
Marilyn Schlitz, Institute of Noetic Sciences
Conference Chair
Stuart Hameroff, M.D.
Director, Center for Consciousness Studies
Conference/Center Manager
Arlene 'Abi' Montefiore




























































VIA FAX: REGISTRATION FORM (pdf)