Toward a Science of Consciousness 2012
Loews Ventana Canyon Resort
DEEPAK CHOPRA
Pre-Conference Forum, Workshop; Plenary 1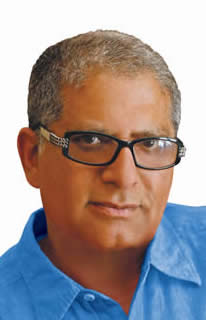 Deepak Chopra, MD, FACP
MONDAY APR 9, 2012

9:00 am - 5:00 pm free to conference registrants; badge required
Forum on Eastern Philosophy and Consciousness
5:30 pm - 7:00 pm
Optional dinner
sunset dinner, location tba available for workshop participants; ticket required
7:00 pm - 10:00 pm
Pre Conference Workshop with Deepak Chopra
TUESDAY APR 10 2012
1:45-4:10 pm
TSC PLENARY 1
War of the Worldviews: A dialog among
Deepak Chopra, Menas Kafatos, Leonard Mlodinow and Susan Blackmore
---

Deepak Chopra MD, FACP has authored more than sixty four books translated into eight-five languages, including nineteen New York Times bestsellers. He is a fellow of the American College of Physicians, member of the American Association of Clinical Endocrinologists, Adjunct Professor of Executive Programs at the Kellogg School of Management at Northwestern University, and Senior Scientist with The Gallup Organization. Dr. Chopra is a columnist for the San Francisco Chronicle and the Washington Post On Faith and contributes regularly to Oprah.com, Intent.com and the Huffington Post; and hosts his daily show on BlogTalk Radio called "Deepak Chopra Radio" which focuses on the areas - success, love, sexuality and relationships, well-being, and spirituality. Time Magazine heralds Deepak Chopra as one of the top 100 "Heroes and Icons" of the century and the "Poet-Prophet of Alternative Medicine." Apply Vedic tradition to modern science and vice versa, Deepak Chopra will lead this special workshop:
Neuroscience of Enlightenment. http://www.deepakchopra.com/
TICKETS
Monday all-day Forum no charge for conference registrants (badges required)
Monday, April 9 Dinner $50
Monday, April 9 Workshop $75
Tuesday, April 10 Plenary 1 TSC conference badges required
Monday dinner tickets limited to Monday evening workshop attendees -
based on availability. Thank you.
'Workshop Only' tickets - ARE available via the online system.
LINKS TO PAYMENT SYSTEM
Payments / ONLINE CONFERENCE REGISTRATION
QUESTIONS:
Phone-In: 520-621-9317
Email: center@u.arizona.edu
Fax: 520-626-6416