2012 Pre-Conference Workshop
4 hour workshop
Toward a Science of Consciousness
Loews Ventana Canyon Resort
Monday April 9
9:00a - 1:00p
Introduction to the Neuroscience of Music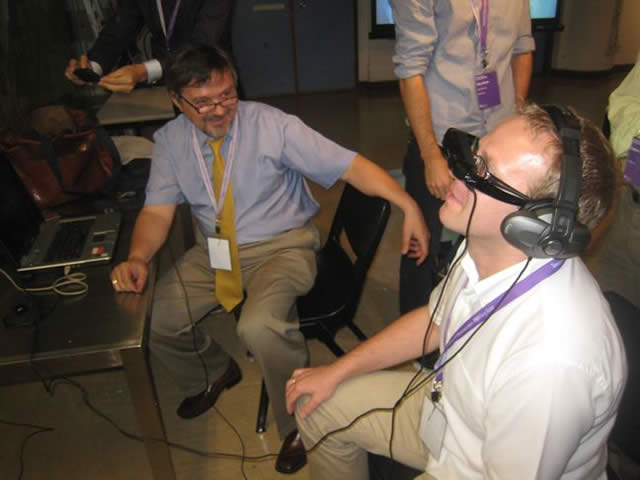 Alexander J.Graur, Ph.D., MT-BC
Music: a well known phenomenon. Since the first half of the nineteenth century is considered mostly as an Art- something
which deals with unconscious talent and "inspiration". But, from the dawn of civilization all over the world since the first half
of the 19th century, music was considered a science. The historical, classical "quadrivium" (the superior curriculum of studies)
lists: Arithmetic, Geometry, Music and Astronomy. A person could not understand and use one of these without knowing the
precedent ones. Only in today's world Music is considered as something useful, to relax only, having nothing to do with science. A misconception which leads the scientists to the lack of the precedent knowledge, actual applications and future opportunities
both in theoretical and practical direction Music Science can bring to their research.
With the intent to show to the Science world the up-to-date data regarding Music as a Science, this workshop will present
the following issues:
1. The Auditory system: anatomy and physiology; 2. The Brain and the audio information: physiological aspects;
3. Memory: biology and mechanics; 4. Music: definitions; 5. Music and Brain; 6. Thinking in Music: what happens in the musician's brain; 7. Music and Consciousness; 8. Conclusions: Implications and Applications; 9. Music Integrative Neurotherapy™: an Applied Neuroscience Method.
Target: neuroscientists, biologists, physicians, psychiatrists, psychologists, clinical music therapists.
Alexander J. Graur, Ph.D., MT-BC , Associate professor, University of Turin, Italy (Post graduate School in Health Psychology, Department of Psychology, collaborating with the Graduate Neuroscience Department, University of Turin. Dr. Graur specializes in composition, musicology and clinical music therapy.
He received a graduate degree in Composition-Musicology and a diplomat in Medicine (P.A.P. -Physician Assistant in Psychiatry);
and is a Board Certified (US) Clinical Music Therapist. Since 1978, Dr. Graur has implemented the Music Integrative Neurotherapy™, an applied Neuroscience method combining Music, Psychiatry, Molecular Biology and Quantum Mechanics. He is the associate editor of the Journal of Biomusical Engineering (BioMed Central) and a member of the New York Academy of Sciences
Dr. Graur has had a long career as a soloist and composer (classical music) with performances and broadcasts of his works
in Italy, Germany, Romania, Switzerland and the U.S. , and is a recipient of numerous national and international prizes for interpretation
He has presented numerous workshops and seminars to audiences in Italy, China, South Korea and the U.S.